The best homeowners insurance providers have the perfect mix of financial strength, coverage options, and customer service to keep you satisfied no matter where you are in the claims-filing process. Below are our top picks — we encourage you to use our tool to compare multiple rates and find the best fit for you.
If you're new to home insurance, you might be surprised to learn it's not just protection for the physical structure of your home, or even everything in it. Homeowners insurance policies also include liability coverage if you're sued for damages or injuries to someone else — say your dog bites your neighbor or someone slips on your front steps. Between these two coverage types there are tons of options: You can raise or lower the dollar limits, choose how to set the replacement value of your possessions, and add on coverages.If it's starting to sound like you won't know where to start, you're not alone: A 2013 study by Marshall & Swift/Boeckh found that 60 percent of US homes are underinsured. That means the majority of homeowners are at a greater financial risk than they need to be because they don't know what kind of coverage they should get.To help you understand how to properly insure your home and choose a provider, we vetted financial strength, compared policy types, and evaluated customer satisfaction for the most popular insurance companies. You'll want to compare quotes between several providers and choose one that offers discounts and coverage for your particular circumstances. Variables like your home's age and construction, security features you use, animals and recreation on your property, and your personal credit history can all affect which company will offer you the best coverage.

We ranked the nation's largest providers based on their customer service, coverage, financial strength, discounts, and endorsements. Our three favorites stood out for their exceptional offerings on all levels. Allstate has the best online servicing, with its ample guides and tools that provide invaluable and comprehensive information. It also offers a ton of discounts, with unique price cuts for new customers. Amica earned the highest rating in customer service and in unique savings available for paying online and remaining a loyal customer. State Farm will help you design an extremely detailed online quote and offers discounts for recently renovated homes.
Our Picks for Best Homeowners Insurance Companies
Best for New Homebuyers
Best Customer Service
Most Personalized Online Quote
Most Endorsements
Best Replacement Coverage
Best for Green Homes
Unique Bundled Deductible
Best for Boat Owners
Strongest Financial Outlook
How We Found the Best Homeowners Insurance Companies
We focused on large national homeowners insurance providers that cover all 50 states — with no special eligibility requirements.
While there are plenty of regional insurers whose credentials stack up against national providers, for this review we focused on the providers that are available to as many people as possible. And though it's true that coverage from the same national company will vary from state to state, large national carriers are better equipped to handle claims in the wake of a disaster by calling in emergency response vehicles. When a disaster hits, their rolling claims centers, which are outfitted with generators, satellite connections, and agent workstations, can make all the difference in areas where power has been knocked out.
"Large national carriers are likelier to invest in emergency response equipment and technology, which gives them an edge. Self-contained mobile response vehicles allow claims adjusters to process claims right at the scene of the disaster. Having in-person access to your insurance company representatives in a time of need is very important."
We couldn't compare insurers with special eligibility requirements like USAA, which insures active and retired US military members and their families. USAA consistently draws high praise, so if you are eligible, we highly recommend getting a quote from them.
The best had to have high Financial Strength Ratings.
Since the whole point of insurance is to protect you financially, it's vital that your carrier has enough money to pay out its claims — which, in the event of a natural disaster, can be sudden and massive.
The best way to compare financial solidity among carriers is to use Financial Strength Ratings from independent agencies. Among the major agencies, only A.M. Best focuses solely on insurance, so we required all companies to have an A rating or above from the firm. Then, because the Insurance Information Institute recommends getting ratings from two or more agencies, we also required a high FSR from at least one of the two largest agencies: At minimum "strong" (A) from Standard & Poor's or "high quality" (Aa) from Moody's.
This is where Farmers fell off, for having the worst ratings of all the national insurers: B++ from A.M. Best, which means they have a "Good" ability to meet insurance obligation. While it's not a bad rating, it is comparatively disappointing when every other company was exceeding standards with "Excellent" or "Superior" ratings. With a weaker financial rating, the company is more vulnerable and thus has a higher chance of going bankrupt, and it's more likely that the company will be resistant to satisfying large claims (like if your house burns down).
We examined coverage options and optional endorsements.
Simply put, there are six main categories that homeowners insurance covers: your dwelling, other structures, personal property, loss of use, liability, and medical payments. Within each category are particular coverages and exclusions. For example, water damage is covered under "dwelling" as a result of burst pipes or water heater but not as a result of heavy rainfall or flooding (though it can be separately added). And while water damage from the burst pipe is covered, replacing those pipes will not be.
Standard coverages by homeowners insurance:
General rule of thumb is that any damage from natural or national disasters, like earthquakes or war, will not be covered. Added to that list is fungi, contamination, wear and tear, and pests.
Flood insurance resulting from a storm isn't part of a standard homeowners policy.Instead, it's available as an additional endorsement from your company or in a separate policy from the National Flood Insurance Program (NFIP). Even if you don't live in a floodplain, it's a good idea to consider flood insurance: The Insurance Information Institute cites it as the most common and costly natural disaster in the United States.
Because the complete list of what homeowners insurance doesn't cover is quite long, we also catalogued the available endorsements from each company. "Endorsements" are optional provisions that can be added to a policy at the owner's discretion. For example, water backup coverageguards against damage from water or sewage flowing up from below-ground pipes, while extended replacement cost coverage increases the limit on your policy by 25-30 percent in case the materials needed to rebuild your home are more expensive than anticipated (such as when demand for them spikes following a natural disaster). The more endorsements offered, the more you can fill in any gaps your policy specifically does not cover — the earthquake endorsement is a common addition in Los Angeles, for example. Nationwide, Allstate, and Progressive offer the most endorsements out of all nine of our top providers, whereas GEICO offered the fewest, most standard provisions.
We built a map displaying the historical frequency of floods and severe storms based on data from the Federal Emergency Management Agency (FEMA) and the National Emergency Management Association (NEMA). If you live in one of the darker blue areas, look for the specific endorsements that apply to your region and which providers offer them. Texas, for example, has the highest count of natural disasters. If you live in a region often affected by floods and storms, you'll want to look for a company that offers additional flood coverage or purchase it separately through the National Flood Insurance Program.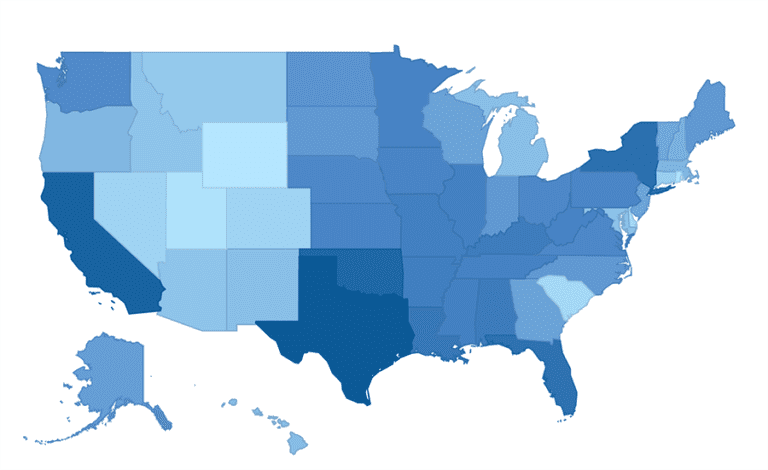 Customer service counts, too.
J.D. Power's annual U.S. Household Insurance Study includes scores based on how well "customers rate the claims experience with their current homeowners insurance provider." J.D. Power has awarded Amica its best in class customer service award for 16 consecutive years. Consumer Reports also published data from nearly 10,000 survey respondents who filed claims from January 2010 to June of 2016, in which they rated carriers on criteria including agent courtesy and prompt problem-free claims experiences. Amica (94/100) and Metlife (89/100) were the standouts, with scores above the rest in all categories from Consumer Reports readers.
A good customer service rating for a homeowners insurance company (80+ from Consumer Reports or 3+ from J.D. Power) will mean painless communication in every phase. You're more likely to receive accurate quotes and sufficient coverage and be properly compensated for claims.
Shopping for a home insurance policy isn't something anyone gets to practice a lot. You have to learn on the fly, and there's a ton of unfamiliar information to absorb, especially for first-time homeowners. So in addition to comparing third-party ratings, we investigated their websites and talked with reps to find companies that made the process painless and gave us confidence in purchasing with them. GEICO disappointed us here. When we called to source more specific information about policies, they refused to answer any questions until we had given them detailed information about ourselves and our home. Translation: no sale, no information. In contrast, Allstate answered all of our questions politely and allowed us to end the call without signing over our social security. Its website does the same by providing plenty of advice on choosing the right policy type and coverage limits, all while happily acknowledging you might not be a customer yet.
We looked for unique discounts but didn't factor in premiums.
Many people consider the cost of premiums to be the most important element in choosing a homeowners policy. We disagree. While it's true that everyone can save money by comparing individualized quotes, what's most important is being fully covered in a worst-case scenario.
Coverage varies greatly among regions, homes, and asset portfolios. If you and your neighbor called all the same providers asking for quotes, there's a good chance the lowest option for you would come from a different provider than the lowest option for them. In short: There's no universally cheaper carrier. For some context, premiums can range in price anywhere from $500 to $2,000.
What plays into your price?
You can value price, however, when it comes to opportunities for discounts. It's important to note that not every discount available will apply to every buyer, like an age discount for those over 55. In general, the most significant discounts, like those for owning a fire extinguisher or being claim-free, are offered by every provider. However, there were a few that stood out: Allstate's "new purchase" discount gives a small break to owners who are moving into their home for the first time (whether or not the home itself is new), and Travelers' Green Home Discount knocks five percent off the premium price for homes certified "green" by the Leadership Energy and Environmental Design (LEED) organization.
With all of these factors in mind, we ranked the top nine homeowners insurance companies based on their customer service and resources, offering of endorsements, unique discounts, and financial strength. It's best to get quotes from several of the companies that may offer benefits specific to your home.
Our Picks for the Best Homeowners Insurance Companies
Allstate: Best for New Homebuyers
For first-time homebuyers new to the world of home insurance, the number of technical terms and coverage options can feel overwhelming. To help you better understand the industry, Allstate's website contains a library of best-in-class resources — everything from articles and videos to quizzes and infographics.
Particularly impressive was an online Common and Costly Claims tool that lets shoppers type in their ZIP code to see the most common claims in their region, complete with average dollar amounts for those claims. In Seattle, for example, Theft and Burglary is the most common type of claim. In Los Angeles, it's Fire Damage. There's also a startlingly realistic GoodHome home report that plays a Google Street View video of your home (or potential home) as it enumerates potential risks and gives local hazard data, plus prevention tips. A home in Kansas City, for example, lists Mysterious Disappearance (missing property with no evidence of theft) and Freezing Water as some of the most costly claims in the area. A home in lower Manhattan, on the other hand, faces costly claims like the negligent operation of watercraft that results in property damage or bodily injury. Tools like this make it simple to understand areas of your coverage for which you'll want to increase your existing limits, or that you might need to supplement, because the risk is higher in your particular neighborhood.
In addition to easy-to-use resources, Allstate also has the second largest number of additional endorsement options. However, those additional endorsement options are fairly low-risk: insurance for expensive sports equipment, musical instruments, or your landscaping. Notably absent, however, is additional coverage options for earthquakes and theft of other property (vehicles, trailer, watercraft). If either of those are personal concerns, check to see if they're already included in your quoted policy or look for a provider that offers endorsements for them (like Nationwide or State Farm).
Allstate's tools and resources section also includes great articles and tip sheets on home safety topics to help you maintain your home and prepare for risks. You can utilize all of these tools and information without signing up for anything or feeling like there's a sales agent at the end of them. Other providers' resources specific to homeowners insurance were nothing special — a few articles, glossaries, or an FAQ. With those insurers, if you have more questions about fees, coverage, and the claims process, you'll have to look elsewhere or speak with an insurance agent.
Allstate also offers the largest volume of discounts (11 total) of the companies on our list, including standard discounts like hosting smoke alarms, fire extinguishers, or deadbolt locks. But it's also are the only company that offers discounts for signing up before your current policy expires and a discount for new customers during the first two years they're insured.
Amica: Best Customer Service
Amica consistently ranks among the top homeowners carriers for J.D. Power and Consumer Reports due to its sky-high customer satisfaction. In fact, Amica was the only one of our top providers that received a 5/5 in every category from J.D. Power. This is a particularly impressive feat when it comes to "claims factor" — a rating based on customer satisfaction with the settlement, estimation, and repair process — arguably the most essential time for good customer service. From Consumer Reports, it received a reader score of 94, two points better than USAA, the industry gold standard in insurance. With "excellent" scores in each category, you can expect timely and helpful interactions with Amica representatives and a relatively pain-free claims process.
Amica offers nearly as many discounts as Allstate, with exclusive discounts for being a long-time customer and for opting into e-bill paperless pay. That e-bill could be further discounted with Amica's Dividend policies. As a mutual company, it's owned by policyholders rather than investors or stockholders. This means that as a policyholder who chooses this option, you could receive a dividend at the end of the term between 5-20 percent of your annual premium — depending on the financial success of Amica during that term and their surplus after claims and expenses. These policies will have slightly higher premiums, without the guarantee of a dividend payout.
The online tech is a bit dated, with a more bare-bones site that only details the basics of its policies and discounts. It offers less than Allstate's abundant and interactive resources, but with Amica's renowned customer service you won't begrudge a quick phone call.
State Farm: Most Personalized Online Quote
State Farm writes more homeowners insurance policies than any other carrier in America — which speaks to its exceptional customer retention. Though not as comprehensive as Allstate's offerings, State Farm's tools, discounts, and resources are all top-notch. Its Simple Insights blog provides tips for homeowners on everything from fire prevention and home security strategies to house shopping and landlord advice. Many topics even feature video tutorials.
State Farm offers standard discounts for installing certain protective devices in your home, such as smoke detectors and fire alarms. However, you won't get any price breaks based on the age of your home, even if it's newly built. Similarly, State Farm doesn't provide discounts for new homeowners or for homeowners who have recently completed renovations, both of which are offered by Allstate, Safeco, and Amica. If you're a newer homeowner or your house recently received a face-lift, it might pay to shop around elsewhere. One exception: If your roof was built using impact-resistant roofing products, State Farm does offer a unique discount for that particular renovation.
As with other companies, you can get a quote online. But State Farm's process involves extra-detailed questions about the construction of your home, down to the percentage of carpet-covered floors and the number of corners in your home's framing. We recommend arming yourself with floor plans, your insurance history, a home inventory, and specific details of your home's construction so there won't be any surprises when it's time to sign a policy contract.
Nationwide: Most Endorsements
Of our top picks, Nationwide offers the most options for additional coverage. These extra endorsements include standard additions like earthquake, flood, and umbrella liability, as well as more uncommon coverages like ordinance insurance that helps rebuild older homes to current building codes when damaged. In cases where your roof has been damaged, there's a Better Roof Replacement option where you'll be reimbursed for investing in material and construction that rebuild a stronger roof than you had before. To take advantage of this, however, two things are required: severe roof damage that would warrant an entire replacement, and a substandard existing roof.
We also like Nationwide's Brand New Belongings coverage, which will apply to nearly every homeowner. Essentially, it's a rebranding of the standard extended replacement coverage; Rather than reimbursing you for the depreciated value your item had when it was lost/stolen, you get the funds to purchase that item brand new. However, with Nationwide's program, you get funds up front (at their actual, lower value), and they'll cover the difference it takes to buy the item new. Its designed to immediately give you partial reimbursement for replacing or repairing items, and then full reimbursement once receipts are received post-purchase.
Nationwide ranks average in customer service and hosts a fairly simple online quote process. On the Better Business Bureau website, customer reviews mention that quotes from Nationwide tend to be more expensive than the competition. We always recommend shopping around for quotes, but if price is your main consideration you may want to skip Nationwide. For homeowners interested in full and specific coverage endorsements, it's worth screening a policy.
MetLife: Best Replacement Coverage
MetLife's website pales in comparison to our other providers' sites, with nothing more than a landing page and a mini FAQ that answers just seven standard questions. And if you'd like to compare quotes online, you'll have to live in one of the 10 states that offer digital policies. However, MetLife redeemed itself with a standard coverage offering that's exceedingly rare in today's market: guaranteed replacement cost coverage for both structure and contents.
This means that if your home and everything inside are completely destroyed, your MetLife policy guarantees the full cost of replacing them. Other providers typically only offer extended replacement cost coverage, which means the insurance company will only pay 25 to 50 percent more than the value of the home. For example, let's say your home is valued at $250,000, but it costs $500,000 to replace. With guaranteed replacement coverage, MetLife will pay the full $500,000 cost to replace your home, while other providers might only pay up to $425,000. In a worst-case scenario, that extra coverage can make a real difference.
Metlife also wins points for its timely payouts and claims-filing experience. Its Consumer Reports Reader Score was a solid 89, second only to Amica.
Travelers: Best for Green Homes
Travelers home insurance provides a great selection of discounts, including a green home discount that other providers don't offer. You can save five percent if your home is certified "green" by the Leadership Energy and Environmental Design (LEED) organization. LEED-certified homes will have sustainable construction and utility systems, plus community resources (transit access, trails) that all echo an environmentally-conscious lifestyle.
Like most insurers in the industry, Travelers home insurance also offers price breaks to homeowners who install protective devices in their homes, including burglar and fire alarms, deadbolts, and fire extinguishers. It also offers discounts for new homes, newly renovated homes, and new homeowners. If you maintain your policy without a claim for an agreed period of time, you can earn another price break.
Safeco: Unique Bundled Deductible
Safeco stands out for its two unique coverage options. If you insure your home and car through Safeco, you're eligible for the "single loss deductible," which allows you to pay only one deductible in the event of multiple losses. For example, if both your home and car are damaged in the same accident, you're only required to pay the home deductible. Safeco is our only pick that offers this, and it could make a big difference in how much you have to pay in the event of a serious disaster.
Safeco also offers equipment breakdown coverage. If an appliance breaks beyond repair, Safeco will pay to have it replaced with an Energy Star-rated appliance of a similar quality, saving you from having to replace appliances out of pocket or purchase a separate home warranty.
While Safeco offers some coverage extensions you won't find elsewhere, its discounts are disappointing. It offers the fewest in comparison to our other picks: just a few standards like multi-policy and a new home discount, with a single standout discount if you opt to pay your yearly bill in full (rather than monthly). If your personal profile qualifies for discounts offered by other companies (i.e. your home is security outfitted), there are options more savvy than Safeco. But if you already have insurance with Safeco, its bundled savings could be significant.
Progressive: Best for Boat Owners
Progressive's service varies heavily by state. As the company explains it, "Insurance through the Progressive Home Advantage® program is underwritten by select companies that are not affiliates of Progressive and are solely responsible for claims, including Homesite Group Incorporated, IDS Property Casualty Co., and ASI Lloyds, and their affiliates." Basically, Progressive isn't selling its own homeowners insurance directly, but has partnered with a company (the one that will pay your claim), in order to offer that insurance to their customers. If you're already a Progressive customer, no need to stray. If you're considering it, be aware that depending on who your policy is affiliated with, your options for discounts and coverage will vary by state.
That being said, Progressive is still a solid provider with fair customer service ratings — in the 2016 J.D. Power study, they ranked alongside State Farm and Allstate. It offers a unique Inflation Guard endorsement that will dynamically adjust coverage amounts to keep up with inflation, so the money you'll need for repairs will be sufficient even as the market's construction costs rise. Progressive also offers a watercraft endorsement that allows you to extend your personal liability and medical coverage to small sailboats and motor boats.
GEICO: Strongest Financial Outlook
Like Progressive, GEICO uses partner affiliates for homeowners insurance, rather than underwriting directly. So when getting a quote through GEICO, it'll automatically pair you with one of its partners at some point during the online quote process. When it's time to make a claim, GEICO will direct you to contact information for the company that sponsors your policy. Basically, the company is a middleman that exists almost exclusively to provide insurance for customers who already have GEICO auto insurance (which the company underwrites itself).
While all of our top picks have excellent or superior financial outlook, GEICO received the highest possible financial strength ratings from both A.M. Best (A++) and S&P (AA+), plus one of the best from Moody's (Aa1) — a good indication that the company will be around long term.
On the other hand, GEICO was the most difficult when we called companies to "shop around." Representatives refused to answer any of our questions without our detailed personal information and financial details. In other words, unless you're ready to get a quote and purchase from them, don't expect a comprehensive phone call. When comparing these national companies, we valued good customer service over financial strength, as it's unlikely these mega corporations will truly suffer financially — which is why GEICO appears so low in our recommendations. GEICO rates better when it comes to their own auto insurance, so if you're already partnered with them, it may be worth staying put. But if you're looking for homeowners exclusively, consider pulling quotes from a few of our other picks.
Did You Know?
If you make a claim on your insurance, your premiums will rise the following year.
Think carefully before filing a claim on your homeowners insurance, as it will directly affect the amount you'll pay going forward. That increase can be as high as 20 percent, as you're shifted into a "high risk" category if you have two claims within three years, or three claims within five years. And it could be another five years before those claims drop off your record and the premium prices decrease.
Calculate rebuilding costs to prevent underinsurance.
If you already have homeowners insurance, there's a 50-50 chance you're underinsured. Many people mistakenly insure their home based on the amount they paid for it, when the true cost of rebuilding is significantly higher. "If you have a mortgage, your lender may only require you to purchase a policy with enough coverage to protect their interest — particularly if you have a low balance," says Christina Moore, a compliance and risk management VP at SWBC. "But in the event of a substantial or total loss, the cost of rebuilding your property could be much more, leaving you with potentially large out-of-pocket expenses."
Your coverage should be enough to rebuild the structure in the event that it's totally destroyed, even if prices for supplies go up following a disaster. To get a rough idea of what you need, multiply your home's square footage by the prevailing cost of building materials in your area.
Homeowners insurance covers disasters; Home warranties cover mechanical breakdowns.
Homeowners insurance is there to protect you from financial ruin in the event of a disaster, not to cover normal wear and tear. A home warranty, on the other hand, covers the mechanical breakdown of systems in the home, like plumbing and electricity. Sound like something you want? Check out our home warranty review.
Best Homeowners Insurance: Summed Up
| Homeowners Insurance | The Best |
| --- | --- |
| Allstate | For New Homebuyers |
| Amica | Customer Service |
| State Farm | Most Personalized Online Quote |
| Nationwide | Most Endorsements |
| MetLife | Replacement Coverage |
| Travelers | For Green Homes |
| Safeco | Unique Bundled Deductible |
| Progressive | For Boat Owners |
| GEICO | Strongest Financial Outlook |
Take Action
Calculate your home's reconstruction cost. In the event of a disaster, it's vital that the amount of coverage you have is right — that's what's going to pay for your repairs and/or a full rebuild. Your coverage limits for personal belongings and other structures are related to the amount of coverage on your dwelling, so you'll have better protection for all your property if you lift your dwelling limit.
Catalog your belongings. "I recommend that people create video evidence of all their belongings, as well as the inside and outside of their home," says Jeffrey D. Diamond, adjunct professor of insurance law at Georgia State University College of Law. The Insurance Information Institute also offers a free online tool that makes it easy to remember everything you need to catalog, and then keep it stored online. "The more ways in which you can establish and prove the features of your home, as well as the quality and quantity of your personal property before a loss occurs," Diamond adds, "the better your homeowners insurance coverage will serve you at the time of need, if and when the need arises."
Get a few quotes by phone. "Calling around to obtain quotes will take some time, but it is worth it to compare coverage and rates," says Moore. Unlike auto insurance quotes, homeowners insurance quotes are more accurate when you call. The online tools are attractive because they make it appear easy to compare quotes from multiple carriers at once, but they often oversimplify in their information collection. For instance, you might be eligible for a discount from a certain carrier that wasn't factored into the comparison, or you might want a specific endorsement it didn't ask about. Call, go through each carrier's specific questions, and then you'll receive quotes that are worth comparing.
The Best Homeowners Insurance by State
Every state has different insurance providers, as well as unique circumstances that affect policies and coverage. We'll be reviewing the five largest providers in every state using a methodology similar to the one for this review on nationwide providers. Check back soon to see if your state has been reviewed yet.
More Homeowners Insurance Reviews
We've been digging deep into homeowners insurance for several years now, and have published additional reviews. However, we haven't finished updating them to be consistent with our latest round of research. Be on the lookout for updates in the upcoming weeks.